The History of Misano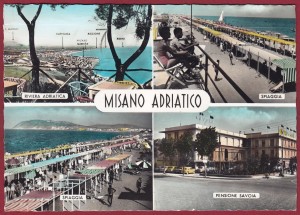 The numerous archaeological relics from various eras, certify the Roman origin of Misano Adriatico. Even the name Misano seems to derive from a Roman family "Gens Mesia", moved into the countryside of Rimini in the 3rd century BC, and which received by the Roman some territories as a military reward.
Trying to trace the history of Misano Adriatico during the 1st century AD is not easy or possible because of the lack of convincing testimonies. What is certain known is that in 997 the construction of the Pieve di Sant'Erasmo, which still exists today, made Misano very important as it allowed to extend its jurisdiction over the areas between the last hills to the left of the Conca to the estuary fo the river.
From 1295 to 1528 Misano saw the rule of the Malatesta family; at the end of their dynasty the city became part of the Papal State until the unification of Italy. In this lapse of time it is important the period of 1511 that saw the administrative independence of Misano since it became a separate municipality, but this independence was short-lived, and was recaptured only in 1827.
In 1938, thanks to a decision issued by the prime minister Benito Mussolini, the city's name was changed from Misano in Villa Vittoria, then back to the current Misano Adriatico.
Between 1939 and 1945 the Second World War broke out, the post-conflict reconstruction with tourist footprint, leads to the transfer of the municipal office in Misano Monte. From this date forward Misano population has grown considerably and is recognized today among the most important seaside resorts of the Riviera.
What customers think
REVIEWS
Listening to the voice of our guests is a way to improve and compare ourselves as well as the main reason why so many friends come back to visit us every year






A very good family-run hotel in misano adriatico!
Hotel Hamilton is located in a silent side road in Misano and the beach is only a 5-minute walk away. My room (307) was quite small but cozy and had a balcony. The interior is functional and of course each room has air conditioning and a small TV. The food in this hotel is very […]






Excellent family run hotel
I can highly recommend Hotel Hamilton to everyone. In fact, the hotel is (and always has been) the main reason for me and my family traveling to Misano Adriatico. The hosts are a very genuine and lovely family who provide outstanding service. The food is heavenly and an attraction in itself; hence, I would suggest […]






Lovely hotel
We stayed for 5 nights in September to go to the Motogp in Misano. The Hotel was clean, tidy & the staff were very friendly & helpful. Meals were simple Italian dishes but very tasty & we never left the table hungry & had different dishes every night. The hotel was very reasonably priced and […]