The seaside of Misano Adriatico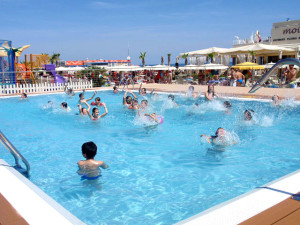 Misano Adriatico, one of the most famous seaside of the Adriatic Coast, has a seaside spreading for nearly three miles, equipped with all modern facilities guaranteed by the various seaside resorts. The seasides of Misano Adriatico have a very thin sand and excel for their cleanliness and organization, as well as for its beautiful clear waters that have awarded Misano Adriatico with the international Blue Flag.
Each beach resorts (Bagno) present in Misano Adriatico has assigned a serial number increasing from north to south, often used to orient oneself while moving along the coast.

Thanks to the presence of its shallow depth, which provide a safe bathing for children, the Misano beach is ideal for family holidays with children; thanks to the watchful eyes of "rescues" the day of children and adults passes safely and in relaxation.
The beach agreed with our hotel, offers sport facilities, whirlpool bath, swimming pool, children entertainment and much more! You can find more information on www.calypsobeach.it or www.bagniromina.it or www.bagnimargherita.it
What customers think
REVIEWS
Listening to the voice of our guests is a way to improve and compare ourselves as well as the main reason why so many friends come back to visit us every year






A very good family-run hotel in misano adriatico!
Hotel Hamilton is located in a silent side road in Misano and the beach is only a 5-minute walk away. My room (307) was quite small but cozy and had a balcony. The interior is functional and of course each room has air conditioning and a small TV. The food in this hotel is very […]






Excellent family run hotel
I can highly recommend Hotel Hamilton to everyone. In fact, the hotel is (and always has been) the main reason for me and my family traveling to Misano Adriatico. The hosts are a very genuine and lovely family who provide outstanding service. The food is heavenly and an attraction in itself; hence, I would suggest […]






Lovely hotel
We stayed for 5 nights in September to go to the Motogp in Misano. The Hotel was clean, tidy & the staff were very friendly & helpful. Meals were simple Italian dishes but very tasty & we never left the table hungry & had different dishes every night. The hotel was very reasonably priced and […]