Amusement Parks on the Riviera Adriatica Romagnola
The adriatic Riviera confirms its nature of tourism destination in the high presence of water parks, amusement parks and theme parks. The Hamilton Hotel has decided to offer a special holiday in which the entrance to the park is included in the price of the hotel, take a look to the offers!
The hotel has an agreement with all the parks on the Adriatic coast! And it is possible to buy entry tickets directly at the hotel at discounted prices and avoid queues at the checkout!
Below is a brief overview of the most interesting parks for your holidays in Misano Adriatico:
Aquarium of Cattolica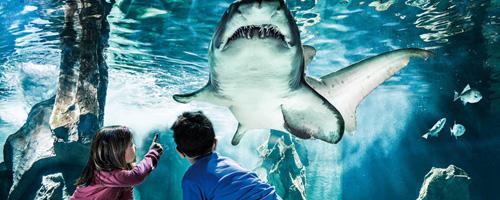 Situated at 9 minute driving from the hotel, it is the largest aquarium of theAdriatico with routes dedicated to different theme. There is the blue route, dedicated to the sea, with more than 100 display tanks for sharks, penguins, turtles and jellyfish. Plus did you know you can book your diving with sharks? Then we have the yellow route that will guide you to discover the life in rivers with otters and caimans. The green route, instead, will amaze you with many exotic animals, chameleons, frogs, insects and snakes. Finally, the purple route, a hearing trip to better understand how our beautiful relatives communicate with each other.
Aquafan of Riccione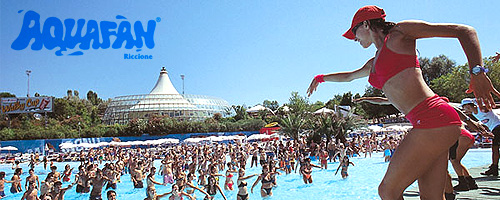 Just 8 minutes driving from the hotel, it offers pure fun between giant waves, splashing water and the musical events of Radio Deejay. 13,000 square meters of park with over 3km of slides for all ages. Three whole areas of the park are in fact dedicated to children and for adults and their parents attractions such as the Extreme River, the StrizzaCOOL and high slides ensure the right level of adrenaline to a chill thrill in the middle of summer!
Mirabilandia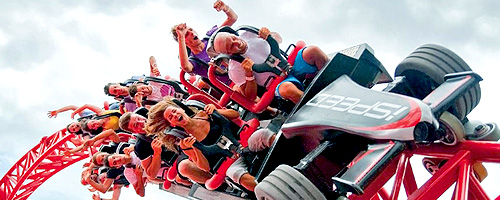 The largest theme park in Italy, located near Ravenna. Although it is not exactly close to Misano Adriatico, it is about 50 minutes driving from the hotel, is one of those destinations almost mandatory for anyone who is on vacation on the Riviera. Many live shows, with incredible stuntman, and the most funny and thrilling attractions you have ever experienced. They range from the famous Katun, the inverted coaster with a 360° loop, number 1 in Europe, to the new iSpeed with a maximum speed of 120 km/h and acceleration astronaut proof. For the more relaxed (but not too much) instead, many other water attractions and the Mirabeach with the beach for sunbathers, are present.
What customers think
REVIEWS
Listening to the voice of our guests is a way to improve and compare ourselves as well as the main reason why so many friends come back to visit us every year






A very good family-run hotel in misano adriatico!
Hotel Hamilton is located in a silent side road in Misano and the beach is only a 5-minute walk away. My room (307) was quite small but cozy and had a balcony. The interior is functional and of course each room has air conditioning and a small TV. The food in this hotel is very […]






Excellent family run hotel
I can highly recommend Hotel Hamilton to everyone. In fact, the hotel is (and always has been) the main reason for me and my family traveling to Misano Adriatico. The hosts are a very genuine and lovely family who provide outstanding service. The food is heavenly and an attraction in itself; hence, I would suggest […]






Lovely hotel
We stayed for 5 nights in September to go to the Motogp in Misano. The Hotel was clean, tidy & the staff were very friendly & helpful. Meals were simple Italian dishes but very tasty & we never left the table hungry & had different dishes every night. The hotel was very reasonably priced and […]